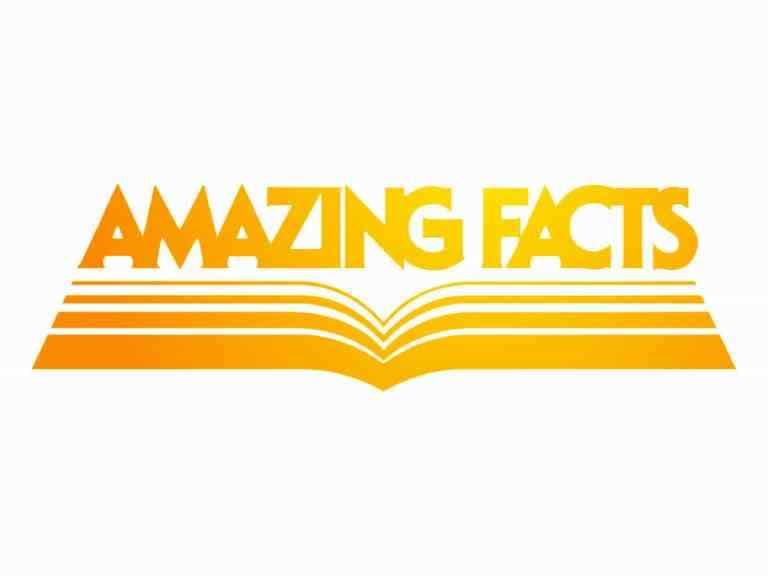 Watch Amazing Facts TV live
Amazing Facts TV: a United States TV channel
Amazing Facts began in 1965 with a brilliant radio idea to attract listeners from all walks of life. Joe Crews, the ministry's first speaker, opened each radio broadcast with an amazing fact and then followed with a related biblical message that everyone could understand.
For more than 40 years, Amazing Facts has been committed to proclaiming the three angels' messages of Revelation 14 and fulfilling the great commission of Jesus Christ.
Our many dynamic outreaches — television, radio, the internet, publishing, and more — not only share the gospel and transform lives all around the globe, but they also encourage, inspire, and equip others to help build up God's kingdom in these last days of earth's history.
Amazing Facts is dedicated to using every means possible to proclaim God's final message of hope and warning to the world. We encourage you to explore our many eye-opening videos available through YouTube. Each is filled with trustworthy, eye-opening information backed by Scripture -- amazing Bible facts that will totally transform the way you think about God.
Amazing Facts began in 1965 with a brilliant radio idea to attract listeners from all walks of life. Joe Crews, the ministry's first speaker, opened each radio broadcast with an amazing fact and then followed with a related biblical message that everyone could understand. At the end of each program, he offered a free Bible lesson to encourage listeners to study God's Word for themselves.

Step by step, Amazing Facts expanded its outreach by publishing dozens of Christ-centered books and creating a free mail-based Bible school accessible to anyone. Not long after, the ministry also began sending trained young men to preach the gospel around the country, winning souls in a winsome way.

Then in the mid-1980s, Amazing Facts expanded its increasingly popular media outreach to television. The clear, Bible-based programs proved to be powerful, life-changing messages for thousands of viewers around the world.

In 1994, Doug Batchelor, an energetic soul-winning evangelist, and author took the reins of the ministry. Pastor Doug is an innovative speaker with an unusual ability to communicate not only to churchgoers, but also the unchurched throughout the world. Under his dynamic leadership, the ministry has grown exponentially — reaching more people in more ways than ever before. (Watch Pastor Doug's Testimony)

For instance, Amazing Facts now broadcasts multiple television programs and a live call-in radio program, Bible Answers Live, on hundreds of media outlets around the world. Moreover, Pastor Doug has presented dynamic, soul-winning seminars in New York, Africa, India, the Philippines, South Korea, and South America, resulting in thousands upon thousands of baptisms and new lives in Christ.

In every area of outreach — whether radio or TV, publications, prophecy seminars, training programs, Bible schools, or the internet — Amazing Facts is giving people the biblical answers they need to make an informed and heartfelt decision for Christ, and equipping them to lead others to Him.

An Overview of Amazing Facts Outreaches

Amazing Facts International is a worldwide, multifaceted, soul-winning ministry committed to proclaiming the gospel and the three angels' messages of Revelation 14. We believe in the imminent return of Jesus Christ and in doing our part to lift Him to the entire world. We invite you to become involved in the following successful ministries:

Television: Amazing Facts TV programs broadcast on cable and satellite networks all around the world, including Daystar, Lifetime Network, Trinity Broadcasting Network, The Word Network, SAFE TV, 3ABN and the HOPE channel, MeTV in Israel, Good News TV in India, and Lifestyle TV in Scandinavia. We reach more than 2.3 billion households worldwide.
Radio: Bible Answers Live, a live call-in program hosted by Pastor Doug, is carried on more than 100 stations around North America including Sirius XM. It can also be heard around the world on the internet every Sunday at 7 p.m. Pacific Time.
Training: Amazing Facts offers dynamic training for laypeople and churches wanting to become effective soul-winners for Jesus. The Empowered Church and Center of Evangelism include classes on how to give studies, mastering Bible doctrines, turning churches into dynamic growth centers, leading seekers to conversion and baptism, methods to disciple and retain new converts, evangelistic preaching, and much more!
Internet: At www.amazingfacts.org, you can study the Bible, order powerful Christian resources, stream video and audio, and read inspiring articles and books free. For more great Bible study and dependable spiritual resources, you can also visit www.bibleuniverse.com and www.sabbathtruth.org!
Bible School: Amazing Facts has more than 100,000 students in our various internet- and email-based Bible schools, reaching many not open to personal visits. Scores of Bible questions, referrals to local churches, and praises are received each day. The virtual mountain of mail each week tells story after story of blessings and miracles in the lives of the students.
Publishing: To provide seekers in-depth information on a variety of Bible topics, Amazing Facts publishes hundreds of books, tapes, and videos. These include books that address the most commonly asked Bible questions and an ever-growing library of DVDs and CDs. Recently, we've distributed more than a million Final Events of Bible Prophecy DVDs! We also publish a full-color catalog available by request without cost.
Inside Report: This bi-monthly, full-color magazine provides updates on the ministry, reports on the evangelist's thrilling seminars, discusses current issues, and offers inspiring stories of souls who have accepted Christ. You'll also find resources to enhance your walk with Jesus.
Local Evangelism: Our highly trained and experienced team of evangelists hosts dozens of gospel, revival, and prophecy seminars each year throughout North America. They strive to turn new and established members into successful disciples and soul winners too.
Revival: Through such events as Oh' for Revival and Drawing Near, Amazing Facts serves the Christian church with programs designed to revive God's people to be on fire for the gospel and evangelism.
Worldwide Evangelism: Amazing Facts has set the standard for large-scale worldwide evangelism outreaches via satellite. International programs such as Reach India, Millennium of Prophecy in New York, Faith Odyssey in Manila, and evangelistic outreaches in Africa, Korea, South America, and more have reaped more than 150,000 baptisms worldwide. Most recently, The Prophecy Code and Most Amazing Prophecies show Amazing Fact's commitment to reach the world with a message that speaks to their issues and their hearts.

Please remember, Amazing Fact is a faith-based ministry, fully dependent on God to work through people like you to keep these ministries funded, and moving forward, according to His will. Thank you, and God bless you.
Looking to watch live streams in high quality?
The quality of live streaming largely depends on your internet speed. If the stream freezes on low quality, check your internet speed and reset your router. This may help improve your experience of watching Amazing Facts TV live stream.
To watch Amazing Facts TV live stream on mobile?
Simply select your favorite channel and hit the play button. Our website is compatible with all devices, including mobile phones, tablets, and smart TVs.
Attention:
Please note that due to differences in connectivity, there may be times when the live feed or live score does not update quickly. In such cases, please refresh the page to resolve the issue.
Additionally, this webcast may be delayed by up to approximately 60 seconds from the televised broadcast, depending upon your internet connection speed and computer configuration. Please keep this in mind when calling in with requests.
We strive to ensure that you can watch your favorite shows comfortably. We republish content from third-party television stations that may sometimes be susceptible to interference from television broadcast sources, which we embed in this page. We will always try to update this TV channel to provide the best viewing experience for you.
Disclaimer: LiveTV is a completely legal platform that provides links to other websites on the Internet which allow embedded features like YouTube, Twitch, Dailymotion, and more. We do not host or upload any video or media files on our platform. LiveTV is not responsible for the legality of the content available on other linked sites. In case of any legal issues, we recommend that you contact the appropriate media file owners/hosters directly.