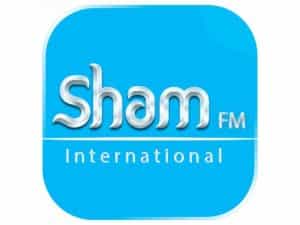 Sham FM TV is a channel broadcast from Syrian Arab Republic. You can watch Sham FM TV online for free through our website every time and everywhere.
Latest updated 3 years ago
Sham FM TV is a channel broadcast online for free from Syrian Arab Republic TV channels
Get breaking Syrian Arab Republic and world news or catch up with the latest stories, clips, and programs from your favorite shows. The "Sham FM TV" brings you breaking news coverage and live streaming from Sham FM TV live will help you stay up to date on the events shaping on around the world.
The actual broadcast of Sham FM Radio began on 7/7/2007 at exactly seven and seven minutes.
From the first day, the Syrian listener was able to distinguish it clearly, even without looking at hesitation - it adhered to the media standards from the first day of its launch.
From a technical point of view, it is the first Syrian radio covering the entire Syrian soil from the first day of its launch, and to this day it is the only Syrian radio that the Golan people hear under occupation.
The programs and the quality of songs provided by Sham FM were greatly respected. Despite being the seventh private radio station in Syria, it drew a path that turned into a stamp for private Syrian radio stations.
Sham FM was not satisfied with the obvious difference - in less than two years, the difference became vast, so it was the first Arab radio to start broadcasting (Tele Radio), through its new studios in the Media Production City in Cairo via the Nilesat satellite.
Thus, its listeners can listen to its broadcasts and watch it also on Nilesat on 12418 Vertical (Vertical).
You can hear Sham FM in Damascus and Aleppo on the following frequency:
Mhz FM 92.3
And in the other provinces on the frequency:
Mhz FM 101.8
And on the roads of frequency travel
Mhz FM 95.3
In the Middle East, North Africa, and Southern Europe: Nilesat: 12418 Vertical (Vertical)
How to watch live streaming on high quality?
Live stream quality depends on your internet speed if it freezes on low quality check your internet speed and reset your router it might help to watch Sham FM TV live streaming.
How to watch Sham FM TV live stream on the mobile?
All you have to do is select your favorite channel and press the play button. Our website is compatible with all devices, you can watch live streams on Mobile phones, Tablets, and Smart TV.
Attention:
Due to differences in connectivity, there may be times when the live feed or live score does not update quickly; please refresh the page if you experience any issues.
This webcast is delayed slightly from the televised broadcast, up to approximately 60 seconds, depending upon your internet connection speed and computer configuration. Please keep this in mind when calling in with requests.
We will always try to update this tv channel so that you can watch comfortably. We re-publish content from third-party television stations, sometimes susceptible to interference from television broadcast sources that we take to be embedded in this page.