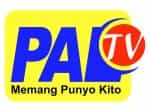 PalTV is a channel broadcast from Indonesia. You can watch PalTV online free through our website every time and everywhere.
Latest updated 9 months ago
PalTV is a channel broadcast online free from Indonesia TV channels
Palembang Televisi ( PALTV ) the first local television station on Bumi Sriwijaya focuses on the interests & desires of viewers in South Sumatra, especially in Palembang City.
If National Television provides programs that are general and universal, then PALTV places more emphasis on proximity, involving viewers through interactive programs, either interactively via telephone, SMS, or conducting OFF AIR activities to strengthen penetration into the community. In accordance with the motto of the PALTV program, namely; "Indeed Punyo Kito".
Who is the PALTV audience segment? As a local television, of course, PALTV wants to be accepted by all levels of society. In essence, PALTV wants to be part of the community so that PALTV positions itself as a family television (all segments). PALTV viewers have typical Palembang characters, namely: dynamic, have high fanaticism towards their culture, strong solidarity, straightforward and expressive, have high curiosity, enjoy being involved in television shows, and are religious.
On these grounds, PALTV, which was established on September 9, 2005, has created a program that is really close to the community. Namely choosing a program that emphasizes more on CONTENT LOCAL (70-80%).
Create programs that involve the community as participants. In addition, some programs are broadcast in LIVE and INTERACTIVE formats with viewers. The use of language in several programs uses the Palembang language. Increase OFF AIR activities, especially in superior programs. In program placement ( scheduling ) PALTV uses considerations, namely viewing time ( viewing habit ), type of audience (viewer segment), program competition on other television stations and the type of program/content owned.
In September 2012 PALTV already has a tx (transmitter) with a power of 20 Kw, the coverage area covers Palembang City, Banyuasin Regency and Ogan Ilir Regency as well as parts of Muara Enim Regency, Ogan Komering Ilir, Musi Banyuasin and Prabumulih City. The presence of PALTV, of course, received a warm welcome from the people of South Sumatra, especially the city of Palembang. That's because PALTV as the first local television in South Sumatra knows better what the fans want.
How to watch live streaming on high quality?
Live stream quality depends on your internet speed if it freezes on low quality check your internet speed and reset your router it might help to watch PalTV live streaming.
How to watch PalTV live stream on the mobile?
All you have to do is select your favorite channel and press the play button. Our website is compatible with all devices, you can watch live streams on Mobile phones, Tablets, and Smart TV.
Attention:
Due to differences in connectivity, there may be times when the live feed or live score does not update quickly; please refresh the page if you experience any issues.
This webcast is delayed slightly from the televised broadcast, up to approximately 60 seconds, depending upon your internet connection speed and computer configuration. Please keep this in mind when calling in with requests.
We will always try to update this tv channel so that you can watch comfortably. We re-publish content from third-party television stations, sometimes susceptible to interference from television broadcast sources that we take to be embedded in this page.