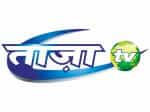 Taaza TV is a channel broadcast from India. You can watch Taaza TV online free through our website every time and everywhere.
Last updated 8 months ago
Taaza TV is a channel broadcast online free from India TV channels
TAAZA TV is the leading Hindi News channel in East India. The channel undertakes great pride in completing a whole decade of their brilliant service to the Hindi Speaking audiences in and around West Bengal, India.
The channel works really well towards striving to achieve and conquer another peak with state of the art shows aired on the channel. The audience can enjoy TAAZA TV cable connected now as a free to air SATELLITE Channel. This is also East India's 1st National Hindi News Channel.
Their programs are available in over 25 million homes through Cable Network in the states of Bihar, Jharkhand, and West Bengal.
Some of the most popular shows on the channel include TAAZA Khabar, Commentary Box, Taaza Top 10, Entertainment Ticket, Sagar Manthan, Khiladi No. 1, Aadhi Duniya, Khas Mulakat, Kids Time, Krossroads, Kaun Sikandar Campus Ke Andar, and Surkhiyan.
Audiences can now watch the channel online live authentic News and Information programs spread across the length and breadth of the Indian subcontinent through high-quality streaming services.
About
Taaza TV has constantly scored with its programming, positioning, and packaging, bravely showcasing the people's point of view. The success is merely an endorsement of the group's philosophy to keep the viewer first and for its stand of empowering viewers.
In the manner of a pioneer and trailblazer, by keeping its programming initiatives fresh and addressing the aspiration of the viewers, Taaza TV renews its commitment to the people.
Taaza TV was proud to be East India's 1st National Hindi News Channel. The channel has kept in mind the high standards of Journalism and it will not be out of context to mention that our Chief Executive officer Mr. Bipin Newar is the only member of PRESS COUNCIL OF INDIA, the highest body of Press in India, from West Bengal.
The Channel caters to every age group. For the News Conscious Predominant section, it has several News related shows ranging from Hard Core News to Fast News to Daily Planners, Analysis, Debates, and Discussions, etc.
For the Ladies of the House, the channel airs a show called Aadhi Duniya, featuring Kitty Party, Beauty Talks, Cookery Shows, etc.
For the Career Conscious Youth, we have a show called Krossroad for the path ahead. Sagar Manthan is a show which talks of socially relevant issues with people from different walks of life.